INDIVIDUALIZED CARE
Everyone who comes to Hattie Ide Chaffee is evaluated for an individualized care plan, which is a collaboration with medical professionals and families and guardians. Once the objectives are set, an action plan is put into place — covering dietary restrictions, rehab expectations, assessing prior level of function, goals for discharge and other needs — with regular meetings to track care and progress toward agreed-upon milestones.
Our continuity of care begins with all of our staff being employed by Hattie Ide Chaffee; they are not contracted employees sent by outside vendors.
REHABILITATION SERVICES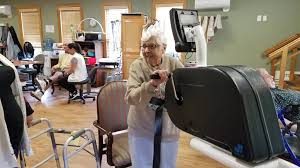 Since 2009, Hattie Ide Chaffee has been providing short-term rehab services to our community with our experienced and dedicated staff and outstanding staff-patient ratio.
Our rehabilitative care residents often come to us following planned medical events such as back-knee-hip surgeries or, in other cases, as a result of an accident … all usually when there is not an appropriate or skilled caregiver at home to get their loved ones back on their feet.
Our comprehensive rehab unit encompasses a wide array of clinical needs including complex wound care, cardiac rehab and successful resolution of many challenging and difficult cases. In fact, we received an award from the Rhode Island Foundation for our low re-hospitalization rates via our Discharge-to-Community program.
In non-COVID times, we like to take patients for a trial run to their homes to ensure they are fully functional to live there safely. Our therapist might make specific recommendations for the home — addition of grab bars, securing loose rugs —  and expand therapies in anticipation of a safe discharge.
Our rehab rooms are single-occupancy, allowing plenty of visits (pre-COVID) from family (and pets).
LONG-TERM CARE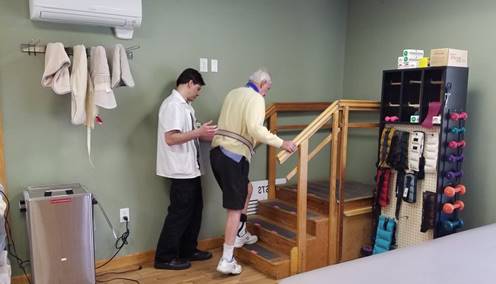 Our long-term-care residents often come to us from hospitals, assisted living facilities, their homes or a rehab program.
We provide restorative care, which refers to nursing interventions that promote the resident's ability to adapt and adjust to living independently and safely. Restorative care focuses on achieving and maintaining optimal physical, mental, and psychosocial functioning. Restorative nursing does not require a physician's order.
Our long-term-care beds are a mix of double and single-occupancy.  (Plans are underway for our transition to all private rooms.) Our small setting means there is always plenty of time for visits (pre-COVID) from family and pets, accommodations for family outings, holiday celebrations and other off-site events.
Our continuity of care extends to the end-of-life and hospice needs of our residents and their families.
SERVICES & AMENITIES
Residents of our rehab and long-term-care units access in-house physical therapy, occupational therapy, speech therapy and more, … usually seven days per week. All patients and residents are monitored by our attending physician and nurse practitioners, who have special geriatric training.
As part of your loved one's care at Hattie Ide Chaffee, we offer complimentary transportation to doctors' appointments, access to community outings, laundry services, cable-internet-landline, access to our rehabilitation gym and home evaluations.
Beyond these services, our residents may take advantage of the following on-site offerings:
CareLink Mobile Dentistry
Optometry
Geriatric psychiatric services provided by The Miriam Hospital
Mobile X for xray services
Lifespan laboratory
START THE PROCESS
At Hattie Ide Chaffee, we take most insurances, Medicare/Medicaid  and private-pay. Reach out to Marlene Verrier, Director of Nursing, and our admissions team here to check availability: marlene.verrier@hattieidechaffee.org